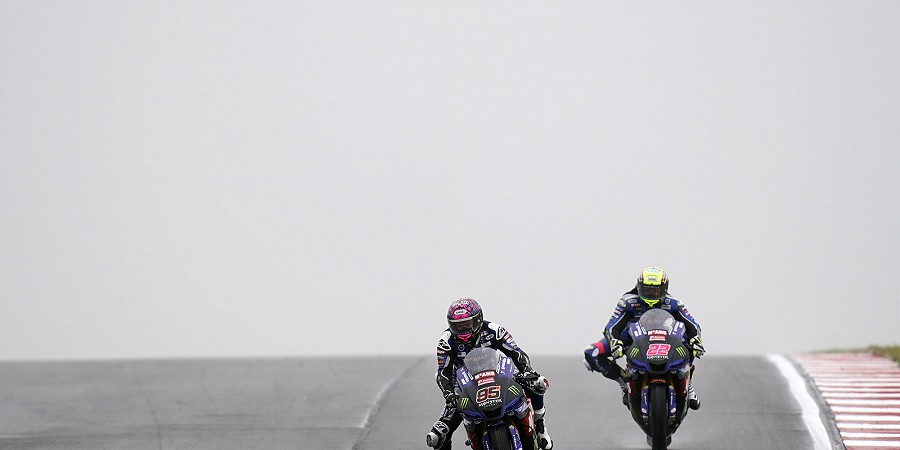 2021 Sat 02 Oct
Crucial Points for O'Halloran and Mackenzie in Donington Race of Attrition
Jason O'Halloran and Tarran Mackenzie put in a pair of gritty rides to take valuable points in a race of attrition at Donington Park.
The first race of the weekend had been brought forward to 12:30 on Saturday as organisers looked to avoid heavy rainfall forecast for the afternoon, but hopes of the opening encounter being dry were dashed when the rain came between Q1 and Q2.
With Donington Park notoriously slippery in the wet, qualifying was very much a lottery with O'Halloran opting for a harder rear wet and Mackenzie a soft. The latter became one of a number of riders to succumb to the conditions as he crashed out of contention on the brakes into the Fogarty Esses. O'Halloran clocked a time of 1'46.862 which placed him tenth on the grid, Mackenzie would have to start 16th after his crash.
Conditions had further worsened ahead of the race, so it would soon become about making the distance in what quickly became a race of attrition with many riders crashing out. The McAMS Yamaha duo were tenth and eleventh in the early stages as they found their rhythm, but as riders began to fall in front of them they made their way higher in the ranking.
With title rivals Bridewell and Brookes crashing out of the race, the objective of finishing the race with solid points became all the more clear and the duo kept their heads and continued to make progress, crossing the line fifth and seventh respectively to take valuable championship points.
O'Halloran and Mackenzie are now tied on points in the championship standings with 1102 points, 18 points ahead of Tommy Bridewell in third.
| Pos | Rider | Team | Bike |
| --- | --- | --- | --- |
| 1 | Gino Rea | Buildbase Suzuki | Suzuki |
| 2 | Kyle Ryde | RICH Energy OMG Racing | BMW |
| 3 | Christian Iddon | VisionTrack Ducati | Ducati |
| 4 | Lee Jackson | FS-3 Racing Kawasaki | Kawasaki |
| 5 | Jason O'Halloran | McAMS Yamaha | Yamaha |
| 6 | Joe Francis | Lloyd & Jones Bowker Motorrad | BMW |
| 7 | Tarran Mackenzie | McAMS Yamaha | Yamaha |
| 8 | Ryan Vickers | RAF Regular and Reserves Kawasaki | Kawasaki |
| 9 | Bradley Ray | RICH Energy OMG Racing | BMW |
| 10 | Rory Skinner | FS-3 Racing Kawasaki | Kawasaki |
"I am kind of glad I crashed in Qualifying because I felt like I could ride around and do what I normally do in the wet but I don't think it was possible for me to do that in those conditions so after that crash I told myself I was going to have to ride around and try to finish the race wherever I could. When I saw Tommy go down and that Jason was only a couple of points ahead, I wasn't too worried so I just watched my pit board, rode to the board and got round to score some valuable points. It's days like today where the points really matter for the rest of the year, so I'm pretty pleased with today's result and hopefully it's dry tomorrow and we can bounce back."
"My mentality before the race was to just finish the race; I wasn't bothered about where I finished I just wanted to stay on. The first couple of laps were a bit frantic as the people behind seemed to be pushing quite hard, but I let the race settle down and set into a rhythm I was comfortable with. To finish fifth is great, I thought I was 12th or something so I was really surprised when the team told me that. It would have been very easy to end up on your backside in that race so the are some really important points as every point matters at the minute."
Steve Rodgers
Team Principal
"It's a cliche, but you can't win championships on days like today but you can certainly lose them and the instruction to both riders was to avoid taking any risks, see how the race panned out and bring it home with some solid points. There were always going to be people with less to lose than us who went for it, and fair play to them there were some great rides out there today, but the level-headed rides from both Jason and Tarran to take very important points for the championship battle were among them and as a team we are very happy with the result."